A wide range of High Value consumer tyres
Pirelli is constantly seeking to meet the ever-evolving needs and wishes of consumers. This can be seen in the continuing expansion of its product portfolio and the development of exclusive applications and customisation.
The company has recently launched Super Specialties such as Pirelli Connesso™, a system that allows tyres to communicate digitally with the customer about such variables as tyre temperature, pressure and wear. It has also launched the customisable Color Edition that allows customers to specify tyres in the colour of their choice. Customers are also offered Specialties that enable cars to continue driving after a puncture – Run Flat™ and Seal Inside™ – and tyres that reduce road noise through the Pirelli Noise Cancelling System™.
Away from cars and motorcycles, the company is addressing future mobility needs in a return to the increasingly successful world of cycling.
products portfolio
a wide range
of high value consumer tyre
CARS
Pirelli's automotive products are divided into four main families: P ZeroTM, CinturatoTM, Winter and ScorpionTM, with variants of Specialties and Super Specialties.
P ZERO™
Launched in 1986 for prestige and premium cars, the popular P Zero™ sets the industry standard for highly-advanced technical tyres with large rim size. In terms of driving precision and braking safety in the dry or wet, maximum performance is guaranteed. P Zero™ products combine technology with dedicated production processes and materials to meet the specific needs of each car – significantly enhancing their driving characteristics. This legendary tyre has a portfolio of more than 800 active approvals for tyres with a rim size of 17in to 22in.
In terms of driving precision and braking safety in
the dry or wet, maximum performance is guaranteed
CINTURATO™
The Cinturato is a medium-high-rim size tyre for summer and all-season use that combines Pirelli's traditional characteristics of innovation, performance and safety with new eco-sustainability requirements based on the concept of "green performance". New eco-friendly materials and their low rolling resistance reduce CO2 emissions.
The Cinturato P7 Blue was the first tyre with a double Class A rating – for rolling resistance and wet grip – from a European brand. The all-season Cinturato P7 was designed to meet the North American market's need for seasonal use and durability.
The Cinturato line includes three other product lines with a rim size of 17in or less. The Cinturato P1 Verde, which is for small and medium-sized cars, was the winner of the ADAC (German Automobile Club) test in January 2017. New materials, an innovative tread compound and reduced weight deliver less rolling resistance and increased safety in wet conditions.
The Cinturato All Season is for urban settings in the summer and winter, and has a Seal Inside version that ensures inflation is maintained even after a puncture. Launched in 2016 for the Asian market, the Cinturato P6 delivers a very relaxed and safe driving experience that balances performance, comfort and fuel economy.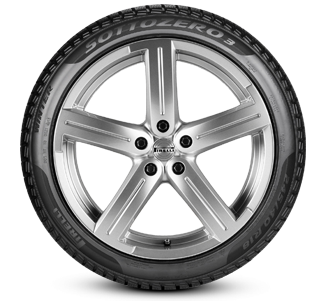 WINTER
Pirelli's premium winter tyre is the Winter Sottozero, a product with a large rim size for optimum adhesion and performance in all winter road conditions. It exploits specific compounds to increase grip below 7°C, innovative slat technology to trap snow and provide greater traction and a tread pattern that minimises noise inside the car.
Pirelli has also launched products for extreme winter conditions. Designed in dedicated research centres and produced in Russia, these tyres, which are 15in to 20in in size, have proved successful in Russia, Northern Europe and Canada.
The Winter Ice Zero in the studded market combines the technological performance of the winter products with the use of the patented "double claw" nail, which significantly increases traction. Winter Ice Zero FR covers the Nordic studless sector for consumers living in urban areas where the use of studs is limited or prohibited and where snow-covered and icy road conditions last for much of the year.
SCORPION™
Dedicated to modern SUVs and crossovers made by Prestige and Premium car manufacturers, Scorpion is the most technologically innovative tyre in the market.
Scorpion Verde and Scorpion Verde All Season deliver high levels of grip and braking without sacrificing environmental friendliness, comfort or safety – on all road surfaces and in the wet. Car manufacturers choose both for their driving performance, low rolling resistance and reduced weight, which reduces fuel consumption and CO2 emissions.
The Scorpion Zero All Season was introduced in 2016 as original equipment for manufacturers of prestige and premium SUVs.
The Scorpion Zero All Season Plus was launched in the American market to meet the demand for fuel economy and the specifications of high-performance American SUVs. The Scorpion All-Terrain tyre combines versatility with excellent off-road capabilities and, like the Scorpion Winter, is built specially to offer prestige and premium car models driving safety in all winter conditions.
Each product family has Specialties (Runflat, Seal Inside™, Pirelli Noise Cancelling System™, Racing, Collezione) and Super Specialties (Pirelli Color Edition and Pirelli Connesso™), which offer car manufacturers and consumers hyper-customised solutions.
SPECIALTIES
RUNFLAT
Runflat allows cars to continue driving for 80km at 80km/h after a puncture thanks to special shoulder reinforcements that maintain the stability and control of the vehicle. It is used by car manufacturers such as BMW, Mercedes and Alfa Romeo.
SEAL INSIDE™
Seal Inside™ technology allows cars to maintain the same pace without losing air pressure even after a puncture because an internal layer of sealant fills the hole when the object is removed. It is used by car manufacturers such as Porsche and Volkswagen.
PIRELLI NOISE CANCELLING SYSTEM™
Pirelli Noise Cancelling System™ reduces tyre rolling noise be means of a spongy material on the inner lining that filters the frequency transmitted towards the car's interior. McLaren, Lamborghini, Porsche, Audi, Volvo and Land Rover all use the system.
RACING TYRES™
Pirelli has an established reputation for supplying competitions such as the Ferrari Challenge, Lamborghini Super Trofeo and Blancpain GT Series and offers a series of specific products for consumers who want to use their own cars on the racetrack or in competitions.
Pirelli offers a series of specific products for consumers who want to use their own cars on the racetrack or in competition
The P Zero™ Trofeo R is designed to offer the world's most powerful cars superb track performance in all conditions. The P Zero™ Slick and Rain are designed for racing and are used in the biggest national and international championships, GTs and single-seater cars. In the rally sector, Pirelli offers tyres for asphalt (P Zero™), dirt (Scorpion™), snow (Sottozero™ Snow) and ice (Sottozero™ Ice).
COLLEZIONE
In 2016 Pirelli launched dedicated tyres for vintage cars using modern materials and technologies with traditional aesthetics and performance. Porsche already officially recommends Pirelli tyres for its cars and similar projects are underway with many of the most prestigious car manufacturers.
SUPER SPECIALTIES
PIRELLI COLOR EDITION
This year Pirelli has introduced coloured tyres. There are four standard colours and hundreds of customised colors that can be chosen from the Pantone™ colour system. The launch was made possible thanks to new technology and Pirelli's experience as sole tyre supplier to the Formula One™ World Championship since 2011.

PIRELLI CONNESSO™
Launched in 2017, Pirelli Connesso™ is the first "intelligent" tyre on the market. It can communicate with consumers and service providers to give updates about its status, sending alerts if there are safety risks and activating driver-assist solutions. The full platform involves tyres with an integrated sensor for detection, a unit that processes the data and sends it to the Pirelli cloud for further analysis and an app that can be downloaded by the consumer. The groundbreaking Connesso App allows the tyre manufacturer, consumer and sales network to communicate with each other and also offers services such as motorsport reports and garage and service reviews.
The groundbreaking Connesso App allows the tyre manufacturer, consumer and sales network to communicate with each other
Pirelli Connesso™ is focused on the replacement market and a product for the original equipment channel will also be provided. Pirelli is developing pioneering technology in collaboration with car manufacturers that will connect the sensor, with the car's control system in order to select the best performance.
PIRELLI CARRIER™
To complete the line, Pirelli also manufactures tyres for the light transport sector. Carrier™, for example, is a van-oriented product with a low rolling resistance and a high level of safety in wet conditions for use over long distances
MOTORCYCLES
Pirelli produces two premium brands for motorcycles – Pirelli and Metzeler – which ensure the company can meet a broad spectrum of customer needs. They compete selectively in different product segments, and complement each other in terms of their values and strengths. This enables the two brands to win market share held by their competitors by limiting the overlapping areas of the product offering.
PIRELLI
The Pirelli brand is synonymous with high-level competition, cutting-edge technologies in terms of performance and the tradition of Italian design. Pirelli's customers value high performance and are fascinated by innovation.
METZELER
The Metzeler brand has a strong German heritage. It is reliable, safe and aimed at customers who see the motorcycling experience as an expression of their freedom and the perfect way to travel and explore.
PIRELLI

DIABLO

The Diablo line epitomises the competitive spirit. Diablo Superbike (slick tyres) is the official tyre of the Superbike World Championship (WSBK) and includes a wide range of measures and specifications designed to maximise performance at different temperature and on asphalt with different characteristics.
Diablo Supercorsa tyres are approved for the operation of hyper-sports vehicles on roads and in competitions – both professional and amateur – when consumers are racing for pure pleasure.
Diablo Rosso is a cutting-edge tyre that is internationally recognised in the specialist press as the best product for sports use because it combines premium performance on the track and in the wet. (Diablo Rosso III, Motorrad 2017.)
Pirelli Diablo Rosso Scooter is a sports product designed for the scooter segment; it is also available in radial specifications for maxi scooters to deliver excellent sporting performance.
PIRELLI

SCORPION

The Scorpion line is designed for mixed on-road and off-road use – perfect for sporting tourism. Scorpion Trail II is for dual-purpose and adventure bikes with high displacement engines designed for riders who want the performance of sport touring tyres, including in the wet and on unpaved surfaces.
Scorpion Rally STR has an aggressive look and top performance that matches the best Enduro street products. Pirelli Scorpion MX is the best-of-the-best for off-road vehicles and has won 66 FIM Motocross World Championship world titles.
METZELER

ROADTEC

The award-winning Roadtec 01 sets the standard for high-speed cruising in the high-performance sector – even on wet surfaces – with its optimum levels of comfort, grip and durability.
METZELER

MARATHON

The marathon family – the ME880 Marathon and ME888 Marathon Ultra – has many sizes and whitewall versions for fans of traditional style.
BICYCLES
Pirelli returned to the world of cycling with two product families: P Zero™ Velo road racing tyres, available since September 2017, and Cycl-e urban tyres, starting from 2018.
P ZERO™ VELO
The P ZeroTM name evokes Pirelli's iconic brand, for over thirty years a symbol of high technology, exclusive solutions and high performance. It is no coincidence that Pirelli has chosen to identify the new range of tyres designed for road racing bicycles with this famous brand. The colour code of the new Pirelli tyres' tread evokes PZero's language from Formula One:
Silver for the most versatile tyre P ZeroTM Velo, which enjoys superior grip in both dry and wet conditions as well as unparalleled puncture resistance and mileage.
Red for the time trial tyre P ZeroTM Velo TT, designed for breathtaking speeds while reducing both rolling resistance and aero drag.
Blue for the four seasons tyre P ZeroTM Velo 4S, whose unique tread design is developed to shed water from your path giving maximum confidence in every weather condition.
CYCL-E
Cycl-e is the product line dedicated to high end urban bicycles, including electric bicycles, which Pirelli will launch on the market in 2018. Cycl-e confirms Pirelli's commitment to sustainable mobility, in which the company already plays a leading role. The line is characterized by maximum puncture resistance with a young and trendy look and feel, and by the handling and the reliability of a motorcycle tyre.